PRESSURE VESSELS AND TANK
HEALTH AND SAFETY POLICY
Our main responsibility is to ensure that all activities and services performed by Deha Tech, its subsidiaries and affiliates comply with the H&S Management System, legal terms and legislation. We commit to comply with all Occupational Health and Safety legislation (laws, regulations and legislation) in force and related specifications in every region where performed activities.
Deha Tech minimizes the accidents by eliminating the likelihood of incident at its source during all activities and adopts the principle of making efforts to prevent occupational diseases. We provide consultancy and participation for achieving the H&S objectives with the awareness of responsibility for their safety to subcontractors, visitors and employees.
Deha Tech provides continuous improvement by setting goals and targets for OHS Management System, creating Occupational Health and Safety management programs in line with these goals and targets, and training, information, auditing, performance measurement and monitoring activities.
DEHA TECH identifies and eliminates hazards and reduces risks when not fully removed and spreads the findings that takes under control with risk assessments methods to employees. By appointing qualified H&S personnel, defining the necessary H&S training of all personnel who involved in the activities of the company, performs the training and provides the necessary resources.
MACHINE INDUSTRY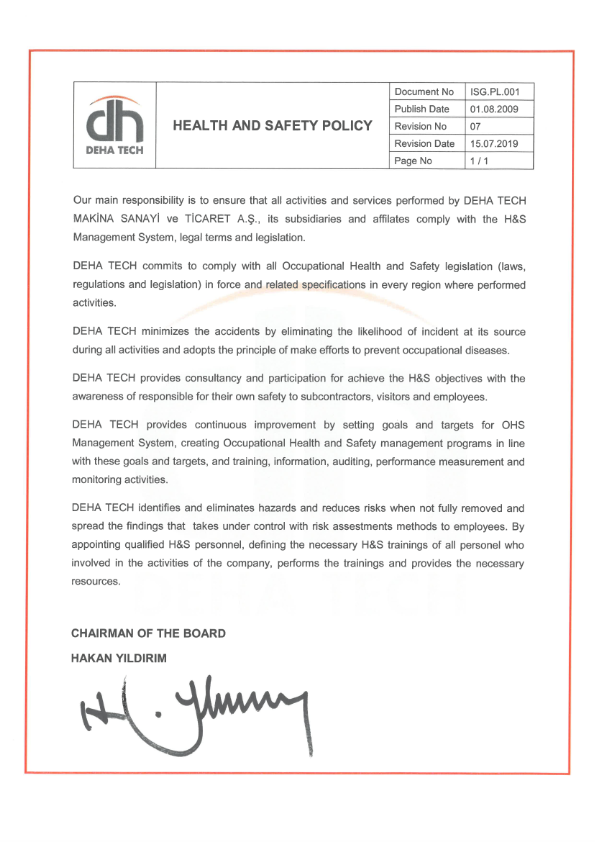 ENVIRONMENTAL POLICY
DEHA TECH, in accordance with established and implemented ISO 14001 Environmental Management System and Global vision;
To work in an environmentally friendly manner without harming the environment in terms of works and manufacturing methods in the sector and field of activity and to use the limited resources of the earth efficiently and to be aware of its responsibilities regarding the environment, compliance with national and international environmental regulations and legislations.
To reduce the use of natural resources within the framework of sustainability and to pay attention to the use of recycled materials, within the scope of all our activities, systematically conducting risk assessments related to possible environmental impacts and accidents, and placing prevention culture
To reduce the use of limited natural resources, to evaluate our recyclable wastes, to prevent pollution caused by harmful wastes to the environment, not to adversely affect the living life, to take the necessary measures to not pollute the environment and to raise awareness of our employees, customers and suppliers about the environment, ensuring continuous improvement without compromising the standards of the Environmental Management System, adopt as an Environmental Policy.
MACHINE INDUSTRY
PRESSURE VESSELS AND TANK
QUALITY POLICY
DEHA TECH provides turnkey construction services for energy, oil, gas, cement, mining, power plants and industrial plants that are needed by developed and developing countries.
We are well experienced and organized company to fulfill design services for machine equipment, executes engineering activities, manufacturing, erection, and commissioning process at the same time. In addition to contribute Turkey's economy in terms of exportation employment, DEHA TECH offers technology and manufacturing services alongside the employment opportunities to the countries it works in.
DEHA TECH is aware of its responsibilities to the people of the country with the affiliated partners and participants, adopts sustainable development as a way of life. As a leader company in the sector, DEHA TECH aims to provide continuous customer satisfaction by providing products and services that will provide the highest benefit to customers in terms of technology and quality.
DEHA TECH aims Zero Defects based on continuous improvement with solution-oriented approach, and detecting the root cause of non-conformance that may occur in the processes of the quality management system. In this context, our aim is to complete the requirements of the quality management system to ensure systematic and regular quality awareness in all fields of activity and service units.
MACHINE INDUSTRY
POLICIES